Truck Loans vs. Cash Purchase: Which is better?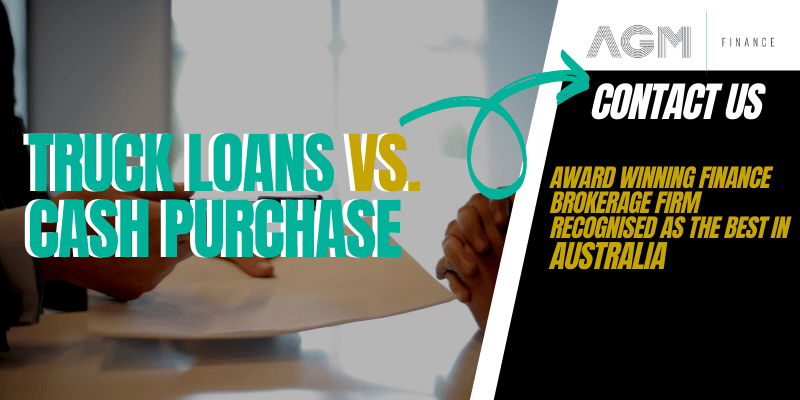 Should you consider truck loans or just purchase outright?
Whether you own one truck or have a whole fleet of heavy vehicles, it's crucial to have a balanced approach to managing your business cashflow and debt level.
In our current climate of low-interest rates, choosing to purchase your next truck through one of the many truck loans instead of paying with cash can benefit your business.
Here's why.
1. Cash can earn you money.
If you're in the fortunate position of choosing between purchasing your next truck outright or securing finance with truck loans, you might be inclined to avoid debt.
After all, debt is a trap, right? Well, it's more complicated than that.
Savvy investors frequently use debt to facilitate investment growth.
In other words, if you can get a low-rate loan to avoid using your cash and then invest your money in a high-return investment, you can make more money off the investment than you would lose by repaying the debt.
But each financial situation is unique and comes with its own risks, so it's best to crunch these comparative calculations with your financial advisor or taxation accountant.
They'll know which option is more likely to be profitable for your business.
2. Accidents happen.
Vehicles break down, accidents happen and someone has to pay the bill at the end of the day.
In times of emergency, cashflow is king.
Having access to cash for an expensive engine repair or parts replacement is essential because idle vehicles won't earn you money.
You've got to get your business back up and running as soon as possible. 
Cashflow access can also be vital in times of sickness when you may need to contract out your haulage or service.
While only a temporary cost, it wouldn't be possible without a healthy reserve of cash in your business.
3. Payments can be late.
I doubt there's a business owner in the world who hasn't at some point had to chase unpaid invoices.
Late payments can become a massive inconvenience if you don't have cash reserves to carry your business until payments come through.
Always allow a cash buffer that's equivalent to several months of income to ensure you have your bases covered.
4. Balance is crucial.
Too much of anything is bad for you, be it physical or financial health you're focusing on.
The way to keep your business finances healthy is to ensure a balanced diet of profit and debt.
If deciding between paying for a heavy vehicle outright or using finance, the happy balance for your business may be doing both.
For example, use some of your money to pay a deposit on the vehicle and finance the remaining amount.
This way, you can keep your debt levels under control while ensuring you still have adequate cash reserves.
5. Truck Finance Lenders are ready to do business.
The appetites of Australian lenders have changed after the unprecedented year of 2020, which saw long approval delays within many major financial institutions.
Now, almost mid-way through 2021, lenders are back on track with financial approvals and have a broad selection of low-doc finance & truck loans available for fast and stress-free transactions.
Tax time is coming.
Don't forget that the financial year is coming to a close, and the federal government is currently allowing instant asset write offs to the value of $150,000.
If you are considering purchasing new or used vehicles some time this year, it may be beneficial to your business to act before June 30.
Talk to your accountant to discuss your best options, then phone our team of finance experts about low-interest finance opportunities, call 1300 664 687 today.
Ready to get a Truck Loan?
Use the calculator or form for a quick finance quote today!