Starting a Trucking Business in the Post COVID World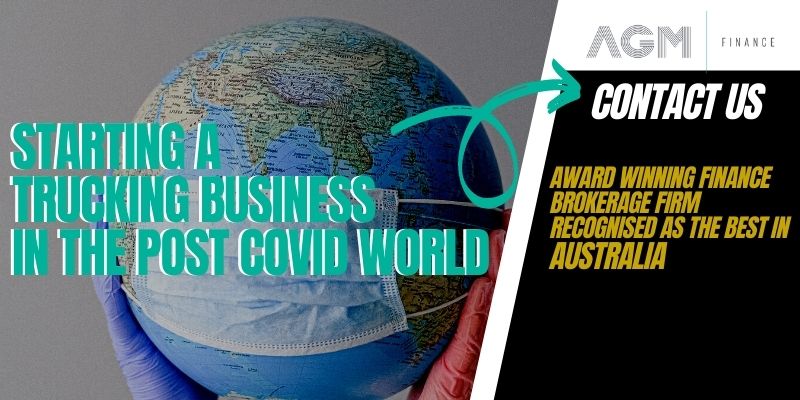 Apart from the many disruptions to our lives, COVID taught us many things. The Transport & logistics industry was tested in ways we'd never seen before. Truck drivers were stopped at borders, deliveries were delayed, store stock levels were dramatically impacted and consumers were left frustrated. On the upside, many came to realise just how important transport and truckers are to the world.
They deliver the critical goods that we need to the stores so that we can get them when needed. These essential workers put their lives on the line every day, not only in terms of road safety, but being exposed to COVID risks at every stage along the supply chain.
You may be wondering: is now the right time for you to be starting a truck business?
It certainly is so we've compiled some tips to help you get started.
Capital May Be Your Biggest Challenge When You Get Started
Though it is becoming easier to get loans now that things are opening back up, you may have a tough road ahead. In order to submit your new credit application you will need to have at least 2 years industry experience, a minimum of 20% cash deposit and a satisfactory credit file.
Shopping Around for Truck Finance Is a Must
With all of the banks & lenders competing for your business, all of the options can make shopping for the right truck loan time-consuming and confusing. Using an experienced truck loan broker will save you a lot of time and money. They are great at helping both individual & fleet owners find the right finance solution for both trucks and trailers.
It May Take Some Time to Find the Right Truck
With all manufacturers being affected by production and parts supply issues, the stock levels of new trucks has decreased dramatically. This has driven up demand and pricing of used trucks to unprecedented levels. You may have to widen your search well beyond your local area to find the right vehicle at a fair price.
It may also pay to approach other truck owners to see if they are interested in selling or know someone who is. Used truck dealers have staff on the phone all day searching for stock so use your personal network of contacts to see what you can find. The great thing about Australia is, we like to help a mate.
Take Your Time Hiring Drivers
If you're not going to be a solo owner-operator, you'll need to hire drivers.
Drivers are in short supply at the moment so you may need to advertise or ask around within industry circles. You may also consider approaching truck driving schools to recruit new drivers, or start approaching other drivers to see if they're happy with their current company. As a smaller entity you can be more flexible so offering them more benefits may encourage more experienced drivers to work with you.
Make Sure That Preventative Maintenance Is Built-in to Your Business
It almost goes without saying but in this post-COVID climate, truck & fleet maintenance is essential to keep your truck business running.
With supply-chain issues affecting parts supply worldwide, preventative maintenance is key. Don't wait for a breakdown as you may be off the road for a lot longer than you're used to.
If you're ready to get started. Talk to the team at AGM, their 25 years of experience in the trucking finance industry is widely respected. With 5 star ratings from hundreds of happy trucking clients and multiple awards from the industry, you'll be in good hands and off to a great start with your trucking business.
Ready to get finance?
Use the calculator or form for a quick finance quote today!