Should You Sell Your Old Truck and Get a New One?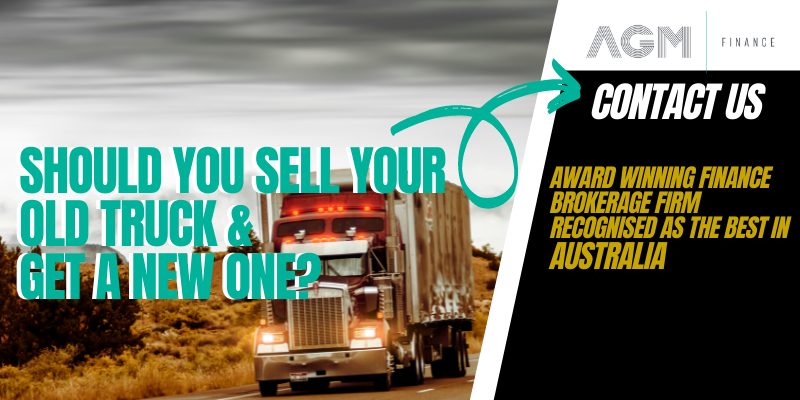 Is your old truck's performance letting you down and affecting your work? Do you visit the workshop more often than you'd like? Maybe it's about time to think about the real cost of hanging onto that old truck and decide if you should sell it and get a new one!
Letting go of your old truck might be hard, especially if it's been searing you well for a number of years.. Saying goodbye to an old friend is never easy.
Perhaps it's about time to part ways with the old truck and consider getting a new one.
There are several things that you may want to consider before deciding since it involves a pretty substantial amount of Investment.
Old Truck VS Brand New Truck
Old Truck
Even if you've taken good care of your new truck, it won't remain new forever and as your truck age, its value decreases. The older it gets, the more frequent you need to maintain it.
Maintaining an old truck won't just cost you money but will also cost you your time. You have to spend time driving your truck to repair shops and you have to go without it which means you will miss a day's work or two depending on how long it will take to be repaired.
It's a hassle! You'll lose a day's worth of income from that.
Keeping an old truck may save you a lot of money by not buying a new one but eventually, the money you saved from that will be spent on maintenance of your old truck.
While it seems financially practical to keep an old truck, it is not. Your maintenance bill may be filed up over time without you even realizing it.
Unlike if you buy a new truck where you are free from stress, and hassle, you also saved money and time in visiting a repair shop.
When to sell your Old Truck?
It needs repair every now and then
Warranty is mostly expired
The truck is slowing you down at work
The repair cost is becoming more expensive than the return performance of the truck at work
Old trucks do not have the safety features that exist with the new trucks
Buying a new truck is cheaper than the overall cost of repairing your old truck
Old trucks consume more gas
Expenses in operating a truck increases
Should You Sell Your Old Truck and Get a New One?
Buying a new truck could be more affordable than your frequent visit to repair shops with your old trucks. Plus, it comes with a warranty that could cover the unexpected repair cost for its first three years.
You won't have to worry about spending a penny when there is an unexpected problem with your truck.
Purchasing a new truck means keeping you updated with the trends and having its latest technology, especially its safety features that old trucks do not have.
Therefore, the cost of maintaining a new truck is cheaper than maintaining an old truck.
Aside from its brand new feels, working with a new truck will make you feel motivated. Thus, you will be more effective and productive at work.
Operating an old truck will make you worried all the time about the truck breaking down versus operating a new truck that helps keep your mind at ease from unexpected problems making you work efficiently.
Buying a new Truck
It comes with a warranty and guarantees
It saves you time and money compared to old trucks coming back and forth to repair shops
Updated safety features and engineered for the safety of the truck operators and its passengers if there's one
New trucks mean greater access to updated features from the manufacturer
It tends to have better fuel efficiency
It is easier to maintain a new truck than an old truck
Reliable
Durable
Purchasing a new truck requires a lot of cash and due to some budgetary reasons, it's not as easy as it seems to buy a new one. Thus, finding a perfect financing firm for your budget need is important!
And if you are looking for a great deal of truck loans, we at AGMFinance are here to help.
We offer a truck, trailer, and equipment finance from 6.95%.
AGMFinance is a multi-award-winning truck loan company from 2015 up to the present. With hundreds of 5-star reviews from happy customers:
"Their rates are second to none!" -Cameron Jones (Director & CEO)
"A fleet of over 100+ trucks, the only broker we use." – Raj Deol (Director & CEO)
"Finance was flawless…an absolute pleasure." – John Golubovic (Director)
"A great deal with a can-do attitude." – Robin Joseph (CEO)
"Most professional finance team you can find Australia wide." – Terry Lef (Director)
Best Australia Brokerage to Help You Buy A Brand New Truck
AGMFinance is your go-to! They gained a reputation as one of Australia's leading brokerage firms and received multiple awards for excellence.
AGMFinance provides low-cost financial solutions to clients across the country. We work with a broad range of clients from a variety of industries.
Our highly skilled team has more than 100 years of combined industry experience, making us the right people to tailor a financial solution to your unique needs.
Today, AGMFinance is a multi-award-winning firm helping thousands of Australians and is recognized as Australia's leading truck and equipment finance specialist.
Call Us Today on 1300 664 687 for a great deal and fast approval!
Ready to get finance?
Use the calculator or form for a quick finance quote today!